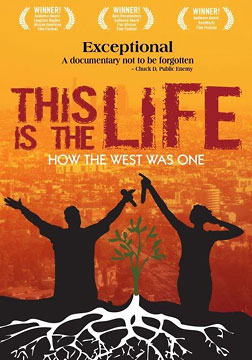 An amazing, vital piece of hip hop history... Its about time that light has been shed on this birthplace of so many styles. A definite must-see for anyone who calls themselves a fan of hip hop culture.

Welcome to The Good Life Cafe...

In 1989, a collective of young artists gathered at a storefront in South Central LA. Their mandate? To reject gang culture & expand the musical boundaries of hip hop. THIS IS THE LIFE chronicles "The Good Life" emcees, the alternative music movement they developed, and their worldwide influence on the artform. Featuring new interviews, rare footage and stunning performances from Freestyle Fellowship, Chali2na and Cut Chemist of Jurassic 5, CVE, Abstract Rude, Pigeon John, Ellay Khule, Medusa, Born Allah, Ganjah K, Fatjack, JMD, Omid, 2Mex, Xololanxinxo, Figures of Speech, Big Al, T-Love, B+ , Mear One, Garth Trinidad, Monalisa Murray, Hines, Busdriver, Monique Matthews and many other LA underground notables.


THIS IS THE LIFE Official Trailer - GoodLifeLove

Directed by Ava DuVernay.

Winner! Best Documentary Audience Award
Pan-African Film Festival 2008 (Los Angeles)

Winner! Audience Award, Documentary
ReelWorld Film Festival 2008 (Toronto)

Winner! Audience Award, First Place
Langston Hughes African-American Film Festival 2008 (Seattle)

Official Selection:
- National Black Arts Festival (Atlanta)
- UrbanWorld Film Festival (New York)
- San Francisco Black Film Festival
- Don't Knock The Rock (Los Angeles)
- Black Lily Music & Film Festival (Philadelphia)
- Roxbury Film Festival (Boston)
- Arizona Black Film Showcase (Phoenix)
- Martha's Vineyard African-American Film Festival
- Charlotte ReelSoul Festival



THIS IS THE LIFE DVD AVAILABLE TODAY:



CLICK HERE TO GET IT NOW!!!!